Parish News
Celebration Mass Wed 10Oct 2018    '70 years of the NHS' celebrated by Archbishop Stack was a wonderful occasion. All Saints church was filled with our parishioners along with representatives from Churches, Chapels, Nursing professions, Schools (and more). Many of the visitors expressed thanks and appreciation for their invitation and were glad they came.   Grateful thanks to all who attended and contributed in any way to make this occasion special.
Hall for Hire
All Saints Church has a fully functional hall for hire with stage, bar and  kitchen facilities. The Hall already has a number of groups using it – Children's Contact Centre, Quiz night, Lunch club, dance and exercise groups, as well as Buffet dances and parties.  To hire or make an enquiry, contact Vincent McCarthy on 01495 304022.
  – – –  – – –   – – –
4 Sep 2017 This  weekend  we  say  farewell  to  Father  Edmund Neizer who  has  served  us  as  our  Parish  Priest  for  four years. We  thank  him  for  all  his  hard  work  ministering  to  us  and  wish  him  well  in  his  new  Parish.
We  are happy to welcome Father Joseph Henry Mensah to our Pastoral area. We ask  God  to  bless  them every day.
— — —
The Parish Mission at All Saints in  June 2017 was a wonderful success. We are very grateful to John Pridmore, Catherine and Niall of  St Patrick's Community for leading us in a great opportunity to find meaning in our lives.
— — —
First Holy Communion Saturday 24th September 2016   Immaculate Conception Church
image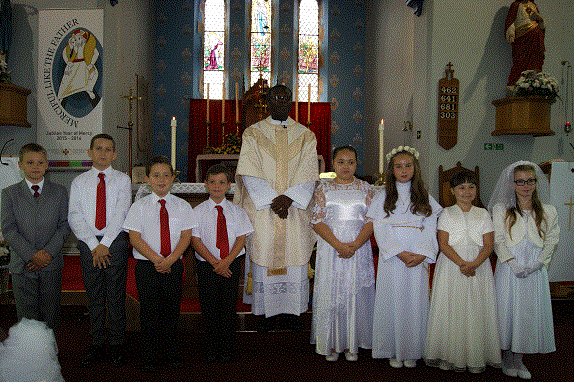 We pray for Maja Kochanska, Sophie Kochanska, Matylda Nawrocka, Sky-Marie Thomas, Tomasso Whitehouse, Rico Sidoli-Harris, Filip Szczepaniuk and Tomasz Kierzkowski who received First Holy Communion on Saturday 24th September at Immaculate Conception Church.
Shroud of Turin Exhibition
which took place between 12th and 20th September 2015 at All Saints Church, proved to be an excellent exhibition and we received many visitors from near and far. Thanks to the organisers for bringing it to our Pastoral area.
_____________________________________________________